About what we've done
---
What We've Done
More information about things that we've done locally
Spate of injuries blamed on Nintendo Wii
By Laura Clout
Last Updated: 12:37pm GMT 22/01/2008
A computer game which allows users to play virtual tennis in their living room has been blamed for a spate of injuries dubbed "Nintendo Wii syndrome".
Wii-style tennis can cause injuries if players do not limit the time they spend in action.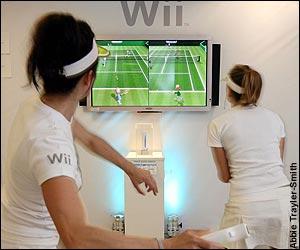 The Wii, which allows people to mimic the movements of activities such as golf, bowling or boxing via a hand-held motion sensor, has been identified as the cause of thousands of minor accidents and injuries.
Osteopaths say middle-aged parents are most at risk from neck, shoulder and elbow problems brought on from playing for too long.
Martin Davies, who runs five osteopathic clinics in Cheshire, noticed a sharp rise in Wii-associated injuries after Christmas.
He said: "We noticed we were getting a number of middle-aged parents coming in having played for far too long on the Nintendo Wii that they had bought their children.
"The older patients in particular are finding their neck, shoulders and elbows are painful and some said they had been playing Wii for up to 10 hours."
Mr Davies says tennis and boxing are the biggest cause of injuries, and he is advising patients to ensure they follow the manufacturers guidelines and limit their playing time.
He has also devised a number of warm-up exercises which can be carried out before starting a play session.
"But it is not all bad," Mr Davies added, "One parent reported that his son had lost a stone in weight since getting a Wii for his birthday."
Alex ACE opens New Surgery
Alex striking ace Steve Jones recently opened a New Osteopathic surgery in a prestigious location, The Lodge on Hospital Street, which is adjacent to Churches Mansions in Nantwich.
Steve Jones congratulates Martin Davies outside the new surgery.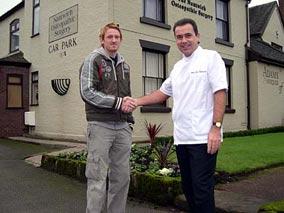 Local Osteopaths Help Local Motor-neurone Disease sufferers
June Taylor – Left – Receptionist
Martin Davies – Centre – Osteopath
Joan Park – Right – MND Chairperson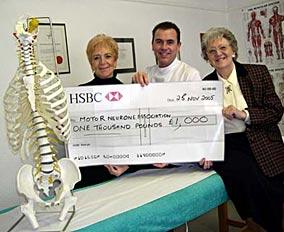 Local Osteopaths, Martin Davies and Associates today presented the local Cheshire Motor-Neurone Disease Society with a cheque for £1,000, which has been raised over the last year from donations received for "soothing wheat bag, heat pads" which are available at their local Osteopathic Surgeries in Alsager, Stockport, Crewe and Nantwich. These wheat can bags make excellent Christmas gifts. Email us for info.
Martin Davies the practices senior Osteopath said that they felt it was necessary to raise funds to help sufferers of this crippling disease after 2 friends recently died from this illness.
For over 20 years Martin Davies and his associates have been helping local people with musculoskeletal problems including painful back and neck conditions, sciatica, knee & Elbow problems, as well as helping with the pain and stiffness of Arthritis.
They also use state of the art laser therapy as well as the traditional osteopathic techniques.
Apart from treating all manner of sporting injuries the Osteopaths at the practices also actively compete in a number of sports.
Pictured here is Martin Davies competing at a Triathlon event in summer.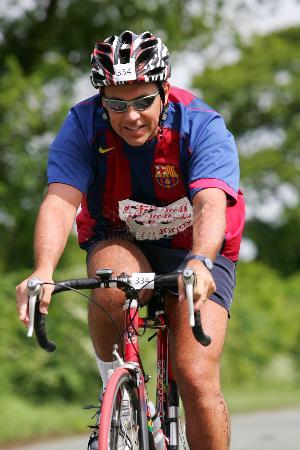 And again: Martin Davies competing at a Triathlon event in summer.