Top Athletes
---
Top Athletes Pay Tribute to Martin Davies Osteopaths
Teacher Tony is a class act
TONY Leigh's the new British Masters Indoor 200m champion.
The Malbank School teacher, who lives at Crewe, streaked to gold in his 40-44 age category at the Lee Valley Athletics Centre, Enfield, London, over the weekend. The 42-year-old also bagged a brilliant silver medal in the 60m. He said: "It feels great to be British Champion.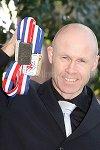 "To be honest I expected to get what I did get, but thinking it and doing it are two different things. lt felt strange to be favourite in the 200m.